Posted by Bethan Bithell on 28th Aug 2022
If you are out in all weathers, then you'll need to consider finding the best hunting boots that you can. If your boots don't withstand the elements, then you probably won't either!
Hunting boots need to be waterproof, breathable and tough. The majority of hunting boots will, of course, offer these features but how can you ensure that you get a pair of good boots that will be really comfortable to wear too? Obviously, comfort depends on the current condition of the wearer's feet (eg bunions and so on) along with the boot's own major features. Even the lacing technique that's used can be a factor too!
So, to help realise top notch comfort, most of our hunting boots boast the necessary features that will help to prevent foot aches, pains and fatigue, whilst giving you the support and stability that your feet will no doubt benefit from when you're busy outdoors.
Spending a bit of time to carry out research prior to making a purchase and, where possible, carefully trying on boots before making a final buying decision will hopefully keep your feet healthier and happier, for so much longer.
With all of this in mind, we have carefully selected a range of hunting boots for you to consider and we have highlighted the key features of each boot, to help ensure you have a comfortable wear when you're out and about.
Our top 3 best hunting boots for men
Grisport Gamekeeper Hunter Boots
Hoggs of FIfe Aonach Boots
Jack Pyke Hunter Boots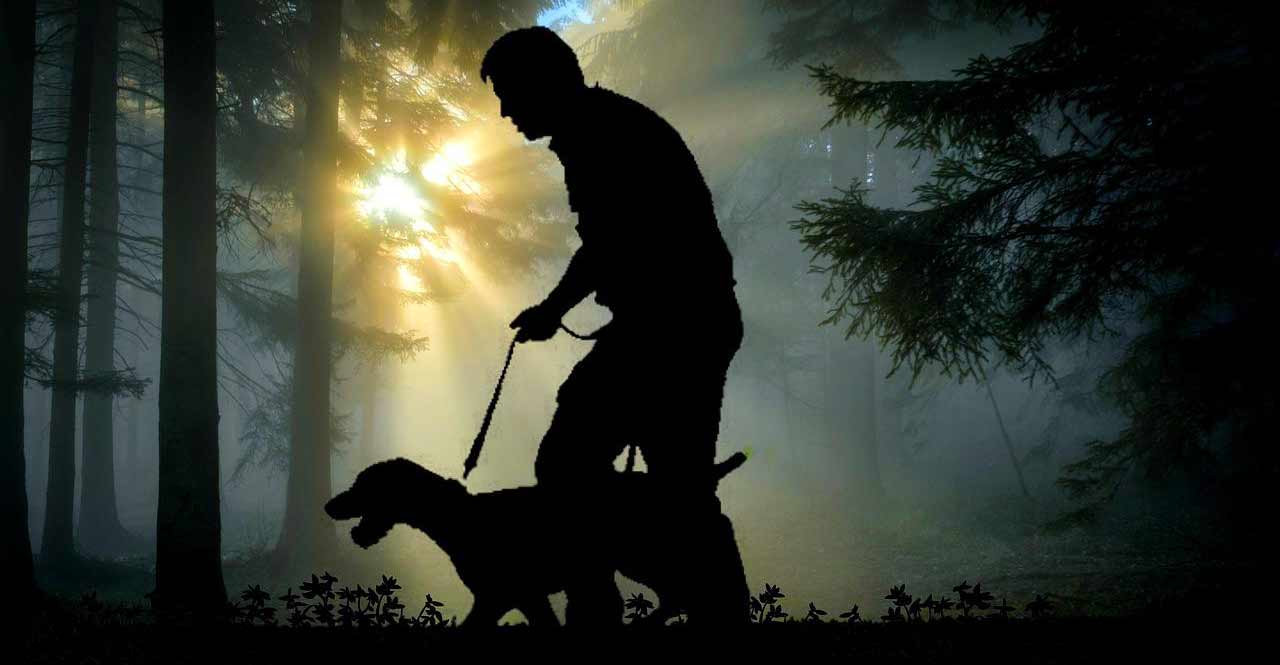 1. The Grisport Gamekeeper Hunter Boot
The Gamekeeper high leg boots by Grisport is one of our favourite boots. Its a sturdy boot made from soft Italian leather. The high leg design offers plenty of ankle support - an essential feature for any huntsman or shooter - and many of our customers describe this boot as 'c omfortable straight out of the box with many positive features'.
The unique five layer sole unit designed by Grisport has been built in to offer stability, a soft spring walk and a cushioned midsole. In addition, the stabilizer prevents twisting when walking over rough terrain, whilst the cushioned midsole guarantees a comfortable walk at all times. Further, the removable arch support insole has been anatomically designed to give your arches additional support, in turn reducing foot fatigue and aches.
If you are somebody who tends to suffer from tendonitis, this boot features an anti-tendonitis relief system. This feature, located on the back of the boot, relieves pressure on the tendon in turn reducing the likelihood of friction and swelling.
There is an added heel locking system too, which locks your foot and ankle in place, preventing the foot from moving and lifting inside the boot. This will help to prevent foot friction, resulting in a blister free walk!
Specifications:
Height: 10"
Upper material: Premium Italian Leather
Click here to view the Gamekeeper Hunter Boots
[Recommended Reading: How to clean and reproof leather shooting boots]
2. The Hoggs Aonach Hunter Boot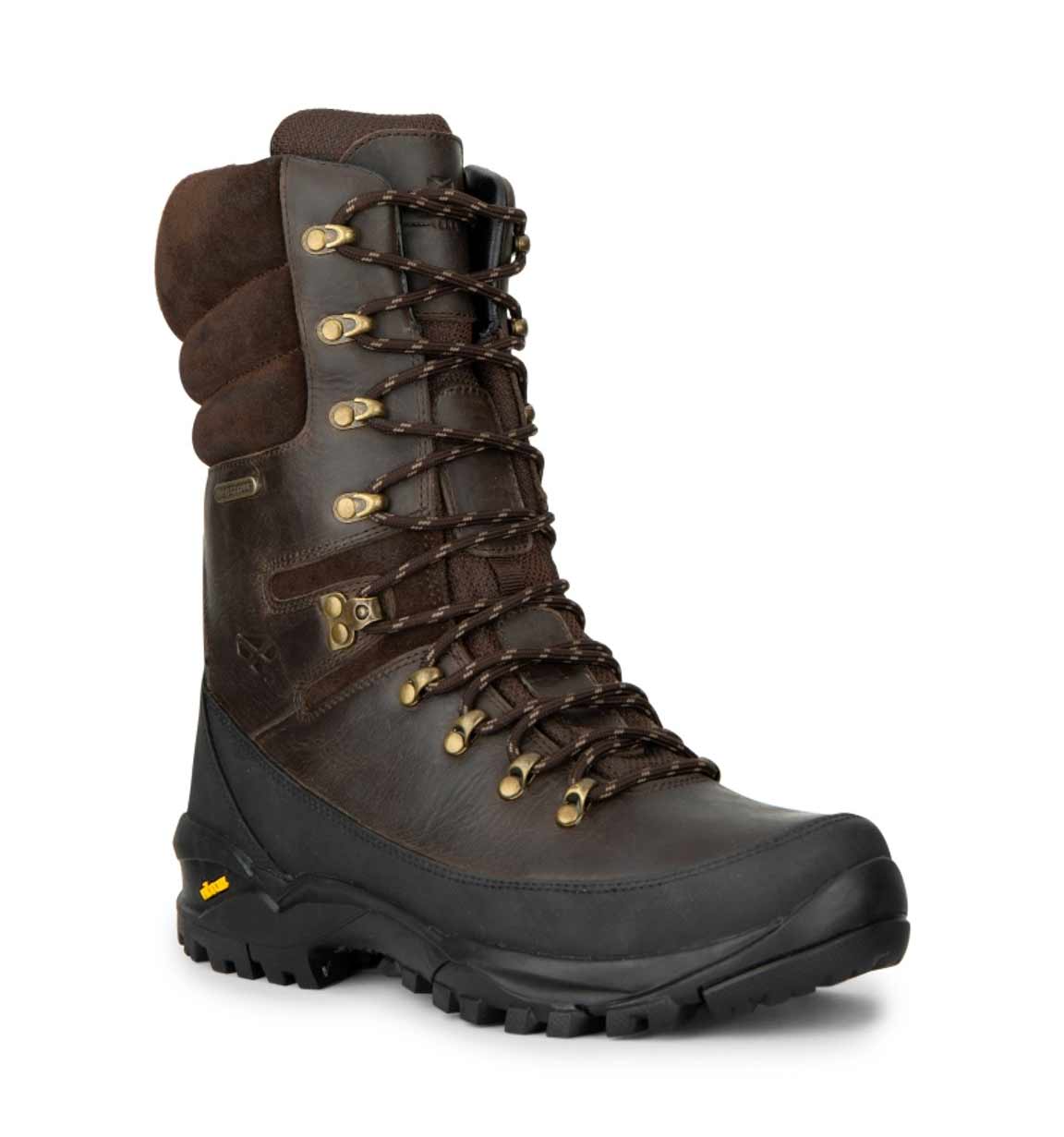 The Aonach hunting boot by Hoggs of Fife is a sturdy boot featuring a Vibram sole unit. It has some flex though, making it a great all-rounder boot for walking, hiking, hunting and shooting. These boots are lighter than some other hunting boots, making them great for long treks too. It's definitely worthy of note that the 10" height of the boot helps keep out debris and water.
For those extra icy conditions, the sole unit design features the IceTrek Vibram sole unit, making this boot great for walking over icy or snow covered surfaces. The soft rubber mixture of this unit, together with the lug design, certainly makes it easier to negotiate slippy frosty surfaces.
These boots have been made from premium anfibio leather. This leather offers total water protection and, due to the H-Tex membrane, your feet will stay dry and comfortable all day long!
The added padding on the heel of the boots help to remove strain on the tendons whilst the removable memory foam insole ensures a comfortable walk.
All in all, the Aonach boot has been designed with comfort in mind and we are sure you will not be disappointed.
Height: 10"
Upper material: Anfibio leather
Click here to view the Aonach Hunting Boot
[Recommended Viewing: Lacing Techniques to Alleviate Foot Problems When Walking]
3. The Jack Pyke Hunter Boots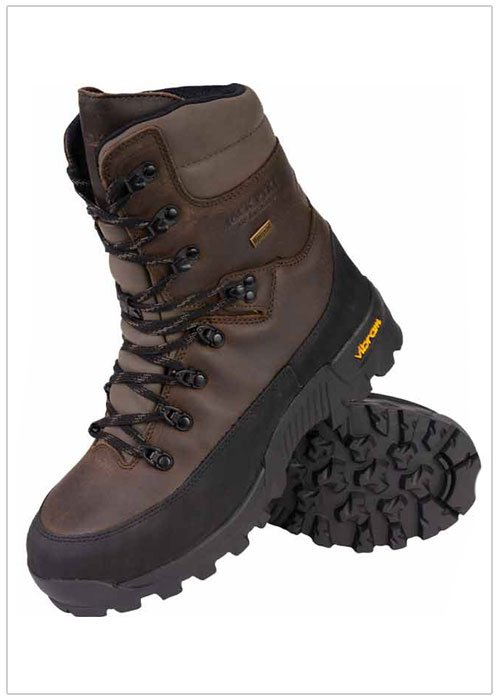 The Hunter boot is classed by many as Jack Pyke's best boot! Made from a full grain leather material with an added high rubber rand for terrain protection, this boot is extremely tough and hardwearing.
The extra padded tongue and heel offers great protection and comfort and the Hydroguard waterproof and breathable membrane helps to keep your feet really dry and comfortable.
If, for example, you find yourself hunting Deer on the Highlands of Scotland, then the Jack Pyke Hunter boot is a mid-season boot that certainly is worthy of some thought. It's designed to give you the support you need, whilst keeping your feet warm in the colder weather conditions.
Ideal for long treks across rocky and rough terrain, the Hunter boot will withstand brutal conditions for sure. If you find yourself in such tough conditions, needing plenty of ankle support and grip, then a pair of Hunter boots may be just what you are looking for!
Height: 8"
Upper material: Leather with Rubber Rand
Click here to view the Hunter Boots by Jack Pyke