Posted by Tony Bithell on 3rd Apr 2023
It may seem like a simple task to just go ahead and choose any womens fleece gilet but, that said, there may be a few important considerations to think about before making your purchase.
To get the best ladies fleece jacket that will suit your own needs, it might be useful to firstly think about what exactly you will use it for and when you are most likely to wear it. Thinking about this can often dictate what colour and style you should choose and also any specific features that you will want your fleece gilet to have.
What To Look For When Choosing A Womens Fleece Gilet
When used as either a mid layer or outer layer garment, fleece gilets can be worn for many different activities and for many different reasons. You may perhaps be choosing a fleece gilet for horse riding, gardening, dog walking, shooting, shopping or to quickly pop on for the school run! Gilets are often worn as mid layers, perhaps under a jacket in cooler times, but they do make smart and practical outer layers too, when it is warmer out there.
Styles and Features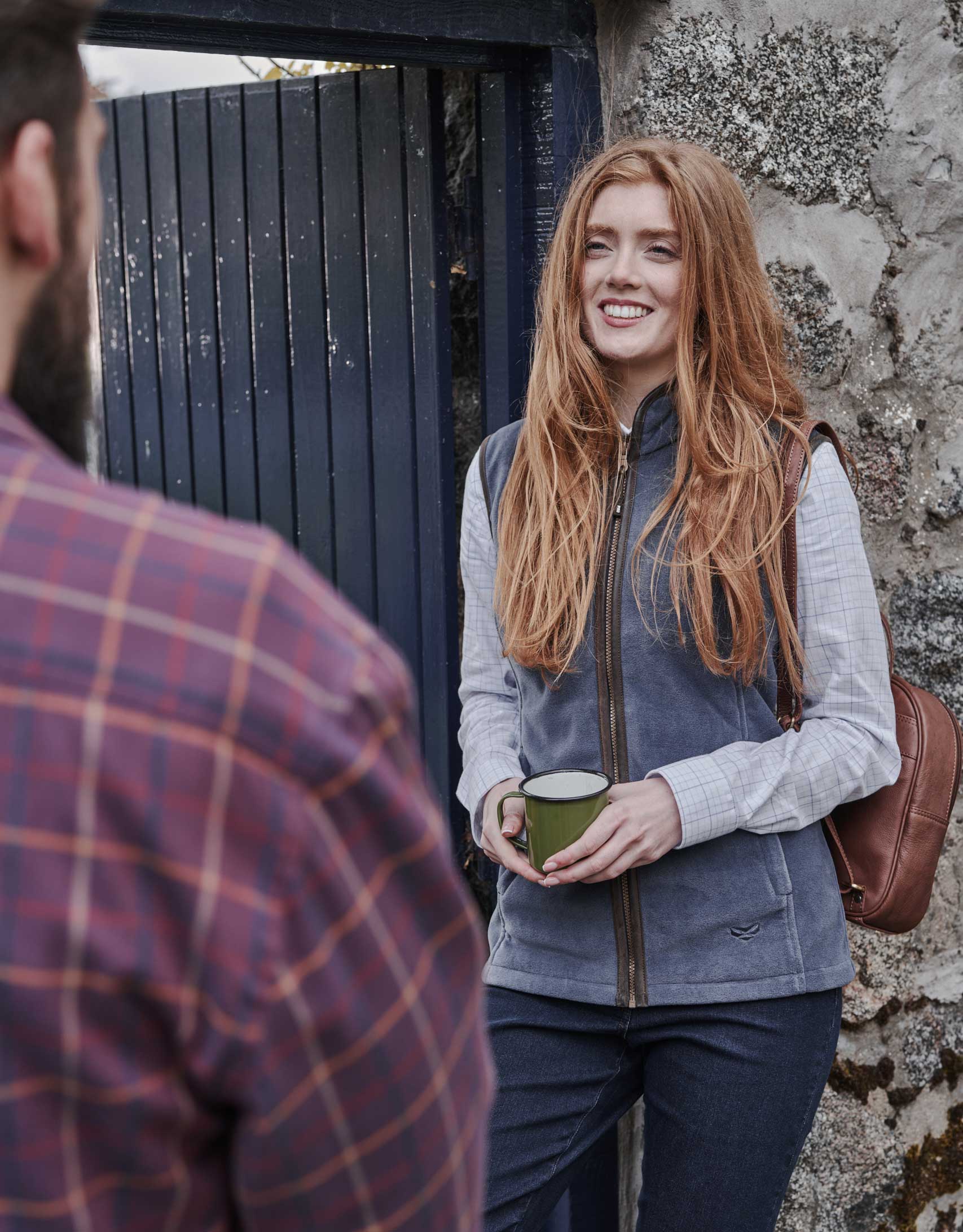 It's worth remembering that most ladies fleece gilets won't have a hood and, whilst fleece can withstand a very light shower, it is not a fully waterproof material. Even so, your fleece gilet will be breathable meaning that when you are very active, any sweat is moved away from the inside of the fabric to the outside. Some womens fleece gilets will be windproof too.
You'll also find that when selecting a gilet product descriptions often refer to GSM. Basically, this means 'grams per square metre'. Typically, a 100 to 200 GSM fleece gilet is ideal to wear when it's warmer in the spring or summer, whereas a 300 + GSM fleece gilet will be great during the colder seasons.
Below are a few aspects to help you choose:
Pockets
Here you might want to choose a gilet with multiple pockets or perhaps this won't be one of your main considerations. However, some gilets have lower side pockets, sometimes zipped, whilst others will have hand warmer pockets too. Other gilets may also have useful inside pockets, which are ideal for keeping your phone or other valuable items secure when you're busy outdoors.
The overall look
Here you might want to think about whether you are looking for a formal or informal look, or perhaps something that offers an overall smart/casual appearance. There are many aspects to consider such as having a sheen/rich pile finished fleece and whether or not you would like it to have piping to give it more of a country look. Some will have imitation suede patches, perhaps on the shoulder and elbow areas, which can often enhance the overall look of the gilet. Do also think about how the gilet is tailored to offer a ladies fit. In addition, some have elasticated arm holes which can be appealing, in terms of offering some extra comfort.
It's good to think about how useful a hem drawcord would be, particularly when out in the constantly changing elements, and remember too that some gilets will have studded waist adjusters. Others will have side slits built in as part of their overall design which are both useful and appealing for some wearers, at least. By the way, it's definitely worth looking at the zip area to see if there is a strong zip puller within the design and, on occasion, some gilets will have an interactive zip too, to enable you to zip your gilet into a partnered jacket.
Washing
Here you might want to think about how you can keep your gilet in top condition even when washing it. To give you the best chance of avoiding a bobbly finish, turn the gilet inside out before washing, avoid any fabric softener or bleach and wash only with cool water and select a gentle cycle. Only use a mild detergent. After washing, to avoid any shrinkage, dry within a low temperature.
Take a look at our range of our ladies fleece gilets!
What to wear with a fleece gilet
As an outer layer do think about what else you might wear with your new gilet. As hinted at before, do you want a formal or informal look? This can depend, of course, upon what you're doing and where you're going.
Jeans
Womens gilets often look good paired up with a nice pair of moleskin jeans such as the Hoggs Catrine moleskin jeans. With many neutral colours to choose from in the ladies moleskin jeans or denim jeans, you can either jazz them up with a nice, bright, colourful gilet or get the country look with a traditional earthy coloured fleece gilet.
Shirts and Jumpers
Wearing a fleece gilet over a nice checked blouse is perfect for warmer days. A neutral coloured gilet over a cream based check shirt gives the ultimate country feel and look. Why not play around with the colours or styles of womens blouses to compliment your new gilet.
On cooler days, your new womens fleece gilet can be worn as an outer layer on top of your favourite warm and cosy jumper, such as our lambswool jumpers by Hoggs of Fife. The lambswool fabric is not too bulky to wear under a gilet and the fleece will slide smoothly over the fabric.
For ladies, a Hoggs of Fife Stenton gilet worn over a checked shirt is the ultimate country style and perfect for any occasion.
Whether you are thinking of choosing a womens fleece gilet as a mid layer or outer layer, it's worth spending a little time exploring the key features of each one. As well as the practicality, the right one can make you look and feel good too.
---
RELATED ARTICLE - Bodywarmer or Gilet What's Really the Best?
Featured in this article: