Posted by Bethan on Oct 15, 2023
From Field to Fashion: Unearthing the Secrets of Hoggs of Fife Trousers
Few garments can rival the classic appeal of Hoggs of Fife Moleskin Trousers. These trousers have been a staple in the wardrobes of discerning gentlemen for generations, seamlessly blending functionality with style.
In this article, we will look into the history of moleskin fabric. We will explore the features and benefits of having a pair of Hoggs Moleskin Trousers, learn how to style them for different occasions, how to care and maintain them and answer some frequently asked questions. By the end, you'll understand why Hoggs of Fife Moleskin Trousers are a must-have for any fashion-conscious individual.
The History of Moleskin Fabric
To truly appreciate the attraction of Hoggs' Moleskin Trousers, we must first understand the origins of moleskin fabric. Contrary to what the name suggests, moleskin fabric is not made from the fur of moles. Rather, it is a dense and exclusive 100% cotton fabric that mimics the soft texture of moleskin. Originally developed as a practical fabric for outdoor pursuits, moleskin fabric gained popularity in the 19th century among hunters, farmers, and gamekeepers because of its ruggedness and weather resistance.
The Features and Benefits of Hoggs of Fife Moleskin Trousers
Hoggs of Fife Moleskin Trousers stand out from the crowd because of their exceptional craftsmanship and attention to detail. These trousers are carefully crafted from premium quality moleskin fabric, ensuring comfort, durability, and style.
The dense weave of the fabric not only provides excellent wind resistance but also offers a degree of water repellency, making them ideal for outdoor activities. They are warm in the winter, cool in the summer. Additionally, the fabric's soft and smooth texture adds a touch of luxury to the trousers, making them suitable for both casual and formal occasions.
One of the standout features of Hoggs of Fife Moleskin Trousers is their unflawed fit. Designed with the modern gentleman in mind, these trousers boast a tailored silhouette that flatters the wearer's figure without compromising on comfort. The trousers are available in a range of sizes, leg lengths and colours, ensuring a perfect fit for individuals of all body types. The attention to detail is evident in every stitch, with reinforced seams and sturdy buttons that guarantee longevity.
How to Style Moleskin Trousers for Different Occasions
Versatility is one of the key selling points of Hoggs Moleskin Trousers. These trousers effortlessly transition from countryside pursuits to city streets, allowing you to radiate style and sophistication in any setting. For a casual yet refined look, pair your moleskin trousers with a crisp white shirt and a chunky knit sweater. Complete the ensemble with a pair of leather boots or brogues for a touch of rugged elegance.
These trousers can be dressed up with ease. Combine them with a tailored blazer, a well-fitted shirt, and a silk tie for a sophisticated ensemble that exudes timeless charm. Finish off the look with polished leather dress shoes.
Different Styles of Hoggs Moleskin Trousers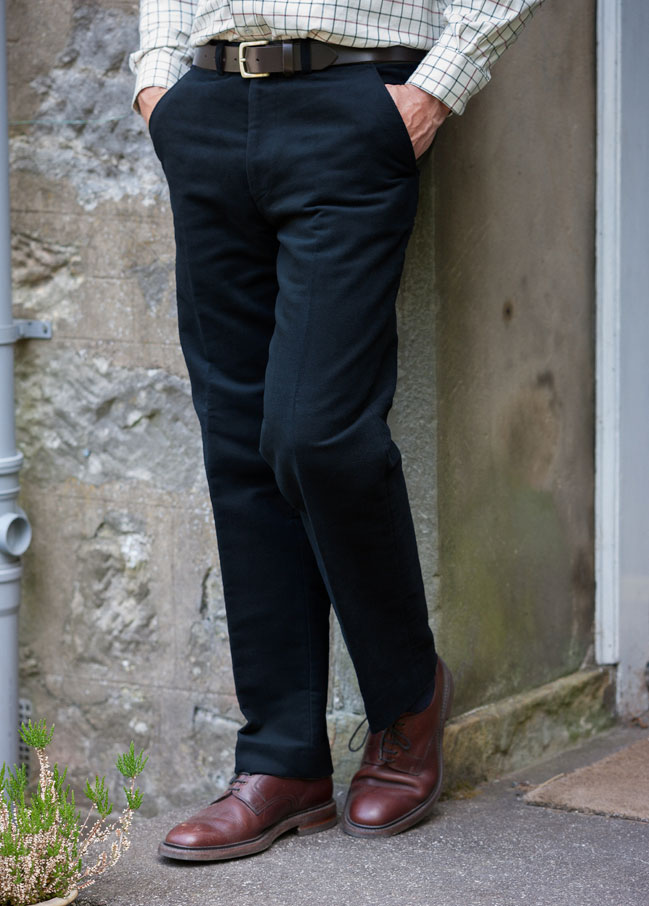 The Hoggs of Fife Monarch II Moleskin Trousers are a durable and stylish choice for those seeking comfort and functionality. Made from 429gsm cotton moleskin fabric, these trousers offer excellent durability and warmth, making them ideal for outdoor activities or everyday wear. The trousers are tailored to provide a comfortable fit, ensuring that you can move with ease throughout the day.
Featuring two side pockets and two rear pockets, these trousers provide ample storage space for your essentials. The six belt loops ensure a secure fit when worn with a belt. The hook and button front closure adds an extra layer of security, while the easy glide fly zip makes it effortless to put on and take off.
One of the standout features of these trousers is the flattened seams, which not only enhance their durability but also give them a smart tailored appearance. Whether you're heading to work or going on a weekend adventure, these trousers exude a sense of style and sophistication.
The Hoggs of Fife Carrick moleskin trousers are a fantastic addition to any wardrobe. Made from 340g moleskin fabric, these trousers are not only durable but also incredibly comfortable.
The modern styling of these trousers ensures that they are both fashionable and functional. With subtle stretch, these trousers provide ease of movement, making them perfect for any activity. Additionally, these trousers are Teflon coated, which means they are resistant to stains and spills, making them ideal for everyday wear.
Featuring a classic four pocket styling, these trousers have ample space for storing essentials such as keys and wallets. The brass zip and double button front closure provide a secure fit and added comfort. Furthermore, the Hoggs of Fife branded internal waistband adds a touch of sophistication to these trousers.
One of the best features of these trousers is that they are machine washable at 30 degrees. This makes them incredibly easy to care for and maintain. Simply toss them in the washing machine and they will come out looking as good as new.
How to Care and Maintain Moleskin Trousers
To ensure the longevity of your Hoggs of Fife Moleskin Trousers, it is essential to follow proper care and maintenance guidelines. While moleskin fabric is known for its durability, it still requires some attention to keep it looking its best.
1. Start by turning your trousers inside out before washing them. This helps preserve the colour and minimises the risk of fading.
2. Use a gentle cycle with cold water and a mild detergent to clean your trousers. Avoid using bleach or harsh chemicals, as they can damage the fabric
3. After washing, it is best to air dry your moleskin trousers rather than using a dryer. The heat from the dryer can cause shrinkage and affect the fabric's texture.
4. Once dry, iron the trousers on a low heat setting to remove any wrinkles. Avoid excessive heat, as it can scorch the fabric.
With proper care, your Hoggs of Fife Moleskin Trousers will maintain their impeccable appearance for years to come.
Frequently Asked Questions About Moleskin Trousers
Are moleskin trousers suitable for all seasons?
Moleskin trousers are ideal for colder seasons, offering warmth and protection against the elements. However, they may be too heavy for hot summer months.
Can moleskin trousers be altered for a better fit?
Yes, moleskin trousers can be altered by a professional tailor to achieve a perfect fit. It is recommended to consult with an expert to ensure the alterations are done correctly.
Do moleskin trousers require special cleaning methods?
While moleskin trousers require gentle care, they can be cleaned using standard washing methods. However, it is important to follow the care instructions provided by the manufacturer.
Why Hoggs of Fife Moleskin Trousers are a Must-Have for Your Wardrobe
Hoggs of Fife Moleskin Trousers are an investment worth making for anyone seeking timeless style, exceptional craftsmanship, and unparalleled comfort. These trousers effortlessly blend functionality with elegance, making them suitable for a wide range of occasions.
With proper care and maintenance, they will become a staple in your wardrobe for years to come. Whether you're exploring the great outdoors or attending a formal event, Hoggs of Fife Moleskin Trousers are sure to make you stand out from the crowd. Upgrade your wardrobe today and experience the unmatched quality of Hoggs Moleskin Trousers.
Explore our range of Hoggs of Fife Moleskin Trousers and elevate your style to new heights. Shop now and discover the timeless elegance of these iconic trousers.
Shop the Hoggs of Fife Moleskin Trousers Range
You might also like: