Posted by Bethan Bithell on Aug 17, 2022
Best Walking Boots for Achilles Tendonitis
There's nothing worse than setting out on a walk only to have to stop after 20 minutes because the back of your foot is aching in particular your achilles tendon is hurting!
Many hikers and walkers suffer with achilles tendonitis and it is a very common problem. But it doesn't have to be a problem if you are wearing the right walking boots.
In this guide we recommend 3 of our best walking boots that are suitable for anybody who suffers with achilles tendonitis.
What is achilles tendonitis?
Achilles tendonitis occurs when you overuse the achilles tendon, the length of tissue that connects the calf muscle at the back of the lower leg to your heel bone. The more walking or hiking you do, the more strain and pressure you are putting on the achilles tendon.
Tendonitis in the foot can be both painful and troublesome, seriously affecting your ability to enjoy your walking, hiking or running activities and it may be as a result of the incorrect walking boots.
Buying and wearing unsuitable footwear can often be a cause of foot tendonitis! For example, wearing traditional running trainers when out hiking may result in tendonitis.
Symptoms
As well as pain, which can be either a sharp stabbing pain or sometimes a duller burning sensation, symptoms can also include swelling, stiffness and an inability to place your foot on the ground without a feeling of discomfort. Be aware that these symptoms may not be constant and may vary in severity.
How do I prevent achilles tendonitis?
The best and easiest way to reduce or prevent achilles problems is to wear the right walking boots that will reduce or even remove the pressure placed on the achilles tendon.
How Can Walking Boots Help Tendonitis?
Features of a walking boot that will help achilles tendonitis
Many walking boots now feature an anti-tendonitis relief system. This relief system offers protection on the tendon that helps to minimise the risk of tendonitis.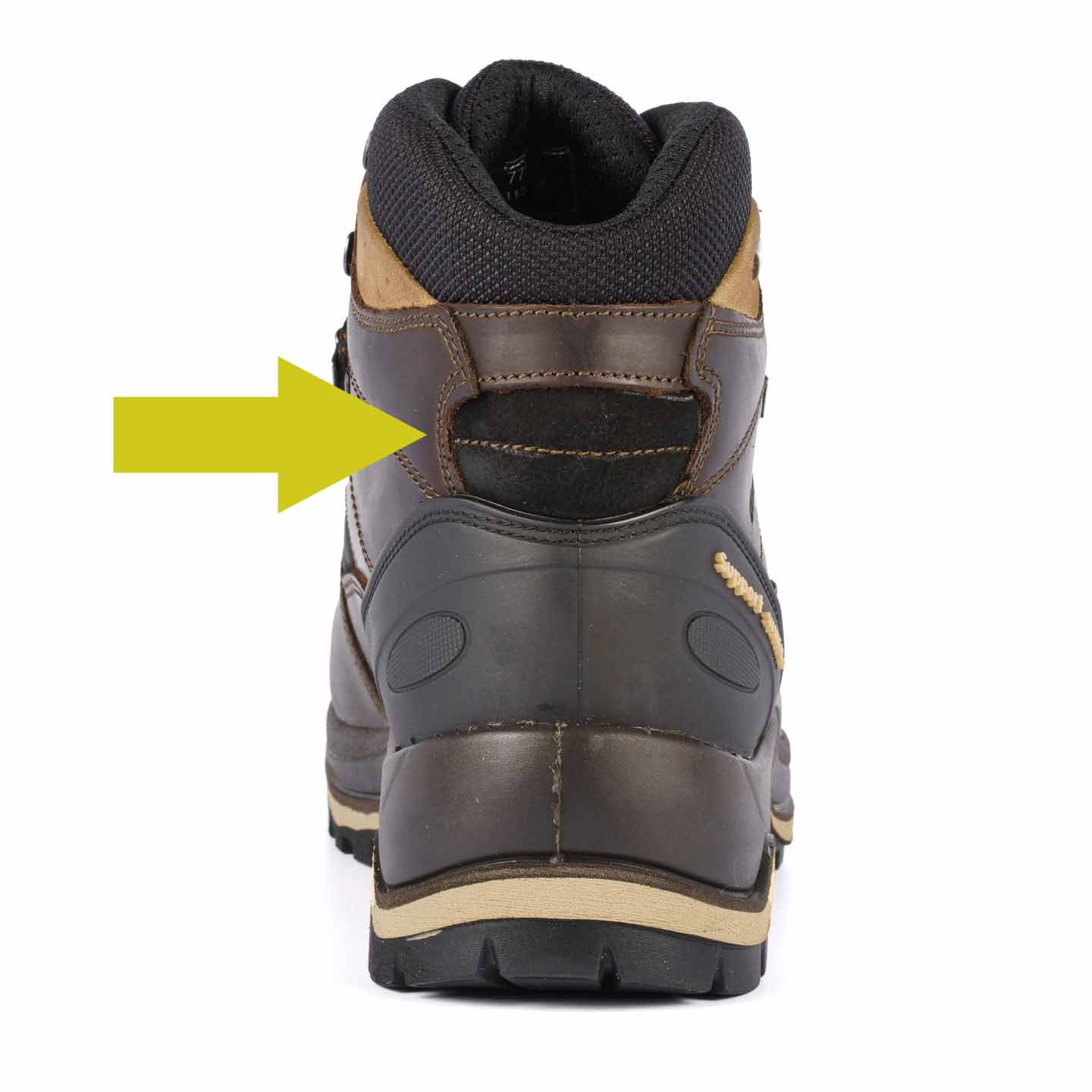 Many of the Grisport walking boots range have a specially engineered anti-tendonitis relief system built into the upper part of the boot to relieve stress on the achilles tendon. The added padding removes the pressure from the tendon reducing the strain on the tendon.
Other features to look for include:
cushioning - good heel cushioning will help to protect the achilles tendon from straining
arch support - good arch support offers good foot support resulting in less foot fatigue and tendon strain. You may wish to consider investing in a good pair of arch support insoles
[Recommended Reading - Which Walking Boot Insoles?]
3 Best Walking Boots for Achilles Tendonitis
Grisport Quatro Walking Boot
Hoggs of Fife Aonach Boot
Grisport Crusader Boots
1. Grisport Quatro Boots
A perfect boot for anybody who suffers with their feet. This boot features the anti-tendonitis relief as well as a heel locking system, helping to keep your foot in place inside the boot.This is a fully waterproof and breathable boot and the insole provided offers good arch support. Available in sizes 36 - 47 making it perfect for men and women. Our most popular walking boot!
2. Hoggs of Fife Aonach Boot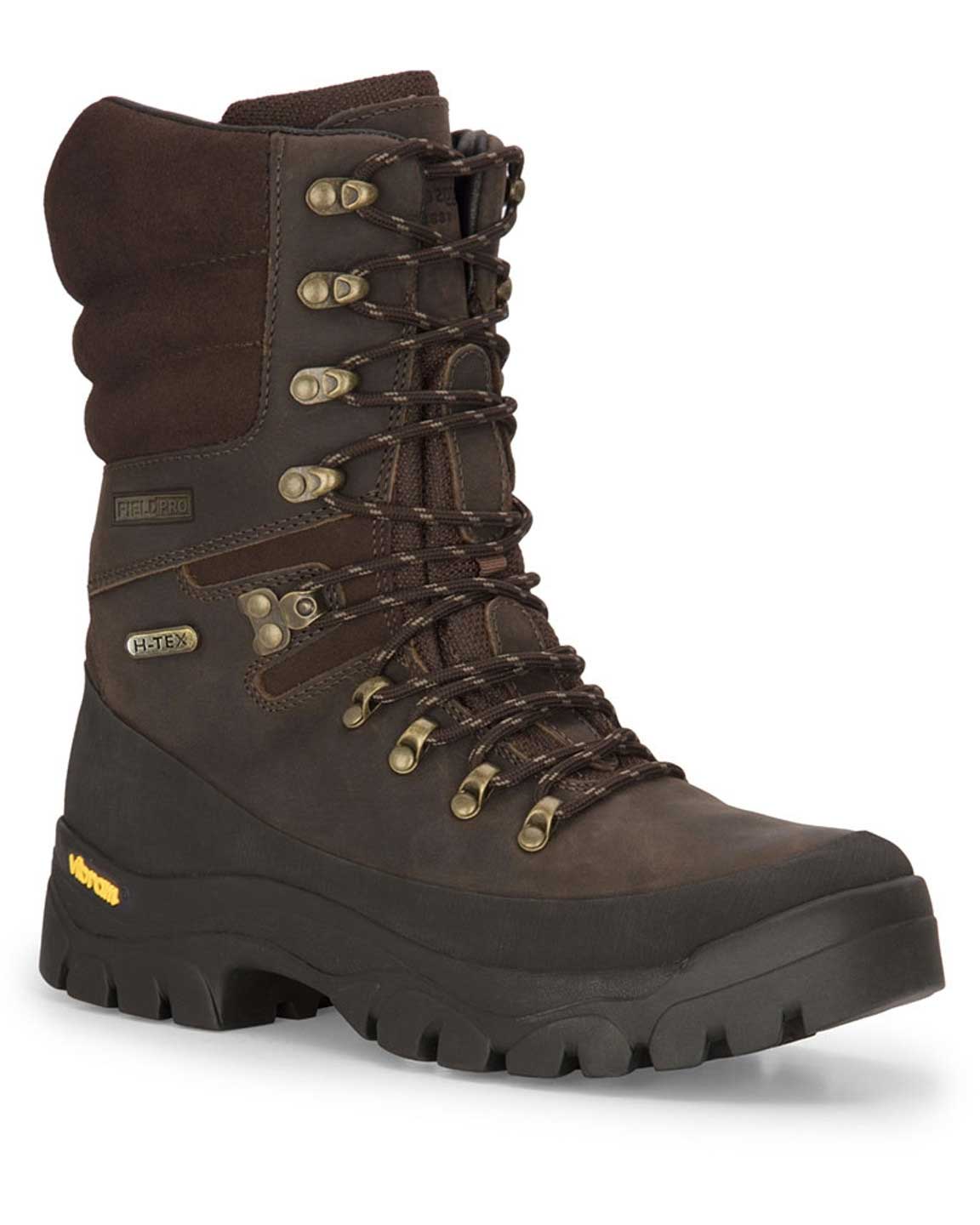 This is a slightly higher boot with the soft tendon relief system on the back.With the added rubber rand for added protection, this high leg boot is perfect for anyone who likes a high boot. Featuring a fully waterproof and breathable membrane, this 10" leather boot is perfect for anyone who likes to walk across rough terrain. Plus it's not too heavy!
3. Grisport Crusader Boots
A sturdy walking boot made from quality Italian leather. Featuring a Vibram sole for great grip and traction, and a waterproof and breathable Sympatex membrane. With the added heel lock system to lock the heel in place when walking.
Tendonitis Foot treatments and remedies
If you suffer with tendonitis, there are many approaches to the treatment whether it is in the foot or in other parts of the body. With regard to "Foot Tendonitis", specialists suggest the acronym RICE should be followed:
Rest – it really is necessary to rest up and refrain from walking and running activities for a week or so, until symptoms subside
Ice – try placing an ice pack on or around the swelling of the painful area (make sure a pack is used as Ice directly on skin can burn!)
Compression – Applying a bandage to the foot can often help to alleviate symptoms
Elevation – sitting with the affected foot in an elevated position may serve to reduce pain or swelling.
Other Grisport Walking Boots available are available for Men and Women:

Editors note: this post was originally published in 2012 and has been completely revampled and updated for accuracy and comprehesiveness.