Posted by Bethan Bithell on 5th Jan 2022
Is your favourite rain coat letting in rain at the shoulders and in need of some TLC? We have just the product for you - Nikwax.
Nikwax Waterproof Products
What is Nikwax?
Globally known brand who manufacture waterproofing products
Products work to prolong the life and enhance performance of your favourite outdoor clothing, footwear and equipment
Ideal for those who spend leisure time in the great outdoors and those who work in it
Environmentally safe, non-toxic and water-based
Maintaining the performance of my outdoor clothing
or people who spend time working outdoors or those who feel most at peace in the countryside or mountains, you know the importance of clothing that will keep you dry in even the wettest weather. It is therefore vital to invest in good quality clothing so maintaining it's quality and waterproofing is crucial.
Whatever type of waterproof jacket you have opted for, it's important to look after it. Most jackets are coated with a durable water repellent (DWR) solution and by using Nikwax products as instructed you can ensure your jacket maintains it's original capabilities.
When reproofing outdoor wear, we recommend:
Clean your garment with Nikwax Tech Wash
Maintain by washing regularly and reproofing when needed - certain substances such as dirt, oil and smoke will clog your jacket's membrane and will affect breathability and waterproofing which is why it's important to wash often
Reproof reproof with Nikwax TX. Direct
Activate water-repellent treatments using heat by putting the garment on a medium-low heat cycle for 20 minutes after treating (obviously read the instructions on the product and garment first)
Top tip: never use conventional detergents to wash your outdoor clothing! Such detergents will leave a thin water-absorbent film on the material which prevents the DWR from working – resulting in rain droplets seeping in.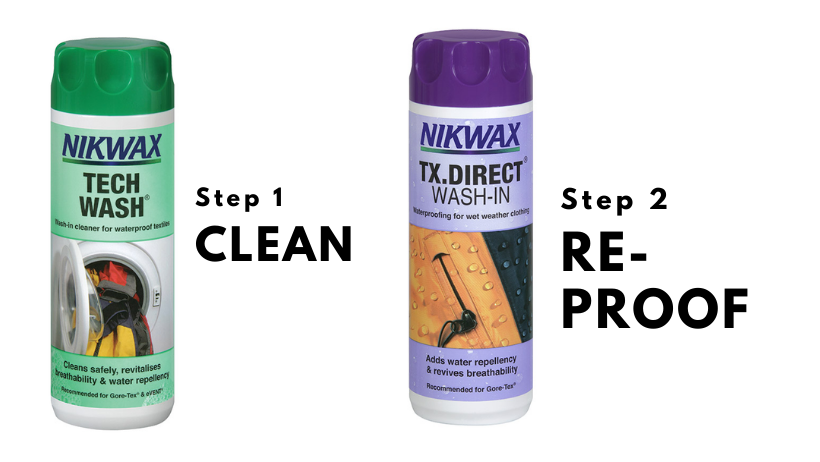 When do I need to reproof?
The first areas to start losing their waterproofness that you will notice are the shoulders and neck, as well as areas that get a lot of wear such as pockets and sleeves.
There is a simple test you can carry out to see whether your walking jacket needs waterproofing or reproofing. Simply pour water on your jacket and see if the water 'beads' on the surface of the material. If the water beads and runs off, then your jacket is fully waterproof and doesn't need reproofing. If this does not occur, first wash your jacket with Nikwax Tech Wash to revitalise existing waterproofing and if this does not fix the problem, then it's time to reproof with Nikwax TX. Direct.
Know when it's time to say goodbye!
Sometimes even waterproofing products can't bring a garment back! Eventually the material on the inside of a garment starts to bubble or flake and even patching or reproofing won't fix it. At this point it's time to treat yourself to a new jacket! Take a look at our collection:
---
RELATED ARTICLE:
Nikwax Product Guides