Posted by B.Bithell on Sep 21, 2023
What to look for when buying a pair of dog walking boots
Choosing the right pair of dog walking boots is not always easy! With so many to choose from we can easily become confused and end up buying a pair that's not right for us. This guide will equip you with knowledge you need to help you make the right purchase.
Naturally, you want the best dog walking boots money can buy. Therefore should you choose leather or waterproof boots? There will be so many questions! Probably the most important thing is to choose dog walking boots that are comfortable, safe and long lasting. Hopefully, the information below will be of some help.
Dog Walking Boot Construction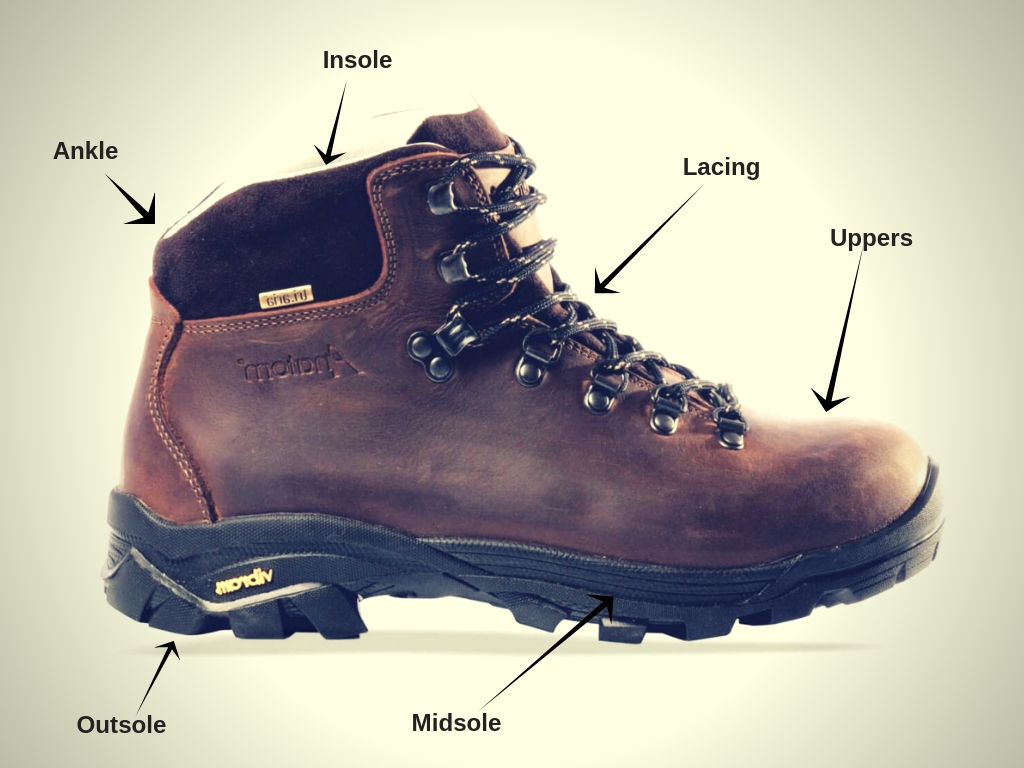 1. The Outsole unit
It's important to carefully consider the outsole of a boot before making a purchase. Choosing will largely depend upon the type of terrain you'll be walking your dog on. Think of an outsole as the rubber section of your boot that gives you traction, grip and stability. It can be quite difficult to choose correctly however, as there are many different types of outsoles available.
Vibram sole units.
These are top of the range sole units and are probably the most well known. You'll get value for money here though as they are durable, long lasting and waterproof. They also offer great grip and traction! Top quality walking boots and shoes designed for a range of outdoor conditions are very likely to be made using a Vibram sole unit. It's important to remember that there are different styles of Vibram soles to choose from. It's always good to carefully assess the terrain you'll be walking over before buying.
Rubber sole units
Alternatively you could consider traditional sole units that are made from 100% rubber! For example, take a look at Veldtschoen boots and you'll see that these are manufactured with rubber soles. These soles are usually fitted to the casing of the boot using a traditional method of stitching. Other types of walking boots and shoes might also sport a rubber sole unit. You'll most likely find them on mid range priced walking boots. Do consider that rubber soles give plenty of grip and therefore are great in wet weather conditions. However, even though they're great for everyday wear, rubber soles are not going to be as long lasting as Vibram soles. An example of a walking boot with a rubber sole is the Northwest Territory Kendall walking boot.
Leather sole units
Leather soles are usually found on the best quality bench-made boots and shoes. You'll find that these type of soles are generally not fitted to everyday walking boots as they don't really provide good grip, traction or stability. Leather soles are often found on dress shoes or boots.
PVC sole units
PVC sole units are usually found on cheaper walking boots. Because these soles offer a level of grip they are fine for walking on roads or dedicated paths. However, PVC sole units will not last! Over time these soles can crack, split or can start to let water in.
2. The Midsole unit
Midsole units are located within the middle part of the sole and the job of a midsole is to provide stability, support and comfort when you're walking. Usually made from a PU composite material, this part of the boot is usually not visible. Good mid to high end priced dog walking boots will incorporate technical midsole units which are shock absorbing, giving you a cushioned walk. Meanwhile, you might find that some of the cheaper boots are uncomfortable to walk in, even just a few miles. We advise that ideally you spend a little bit more time to ensure you get a shock absorbing midsole unit.
3. The Insole
The insole is the inner part of the sole unit that your foot sits on and is often removable. The purpose of an insole is to offer arch support along with additional cushioning and shock absorption. Usually, when you buy a new pair of dog walking boots, the insoles are fairly specific for the boots. Most mid to high end priced boots are manufactured with insoles that are well shaped and therefore will offer support. However, some boots have memory foam insoles which will automatically form themselves around the shape of your foot.
For a really comfortable dog walking experience, good quality insoles and appropriate walking socks are essential for that all important cushioning and arch support. Because cheaper boots will have basic insoles in their make up, they will offer very little support and shaping around your foot. It is advisable to remove and change cheaper insoles for ones that are shaped and cushioned.
---
RELATED ARTICLE: Which walking boot insoles?
---
4. Lacing up
Most walking boots are equipped with round laces. Because round laces move smoothly between the eyelets of the boot, it is easier to lace up your boots. However, there are different ways to lace up your boots which can help to alleviate foot problems such as blisters or aching feet. To find out more please check out our guide on "Lacing techniques that help to alleviate foot problems".
5. The Uppers
The term 'uppers' refers to the material above the midsole of the boot. However, there are many different types of uppers available when choosing dog walking boots. You can opt for leather, suede, or fabric with each offering unique features.
a. Leather - hardwearing, fairly scuff resistant, naturally waterproof, easy to clean and maintain, naturally breathable. A great example of a leather walking boot is the Grisport Crusader boot. Beautifully made in Italy, using quality Italian leather.
b. Suede (leather turned inside out) - fairly hardwearing, naturally waterproof, a little bit more difficult to clean, naturally breathable. These boots tend to be more lightweight than leather boots. A great example is the Hoggs of Fife Rambler boots.
c. Fabric - lightweight, stylish, available in various colours and styles. This style of boot is the lightest type of walking boot. A good example of a fabric walking boot is the Grisport Terrain walking boots.
6. The Inner Fabric
Most boots these days will feature a waterproof inner lining (or inner sock) that's waterproof, such as Hydry and GORE-TEX. An inner lining will help to keep your feet dry when out and about, making a boot that has these perfect for wet weather conditions. However if you are planning a dog walking holiday in a hot country, think carefully! It's advisable to get a pair of comfortable dog walking boots that are manufactured without a lining to help your feet to breathe. Alternatively, select a boot that incorporates a breathable membrane.
Do remember that there are many different types of inner linings available, such as Hydry, Spo-Tex, or Sympatex to name just a few.
The Best dog walking boots for your activity
Your choice of boot is likely to be influenced by the type of dog walking activity you enjoy. Two typical scenarios are given below.
a. Lowland walking (or Rambling)
This level of walking will usually take you on to fairly flat routes where there are no particularly steep climbs. National Park paths, country lanes and dedicated paths are good examples of these routes. It's important to find boots or shoes that are quite flexible and very comfy for this type of activity. A good example of a lowland walking boot is the Northwest Territory Emerald boot or the Hoggs of Fife Glencoe boot. Both offer good grip, are waterproof and offer plenty of ankle support.
b. Hill walking
When hill walking you're going to be faced with more difficult terrain such as steep hills, rocky grounds or slippy surfaces. Therefore more rigidity is needed in a boot to prevent ankle twisting or slipping. Spend some time thinking of a hill walking boot that is stiff, tough and stronger than a lowland walking boot. Do remember though that a bit more breaking in will be needed.
In summary when looking for a pair of comfortable dog walking boots you'll need to consider:
comfort and support
ease of putting them on and pulling them off
waterproofness and breathability
grip and traction
ankle support
Explore our range of boots for taking out the dog out from top quality brands including Grisport, Hoggs of Fife and Northwest Territory.
---
RELATED ARTICLE: How to Avoid Leaks in Your Dog Walking Boots
---