HOGGS OF FIFE FALKLAND TWEED JACKET REVIEW
REVIEWED: September 28th 2013
PRICE WHEN REVIEWED: £110.00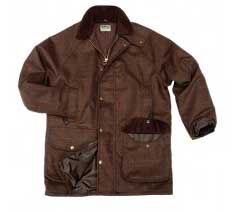 Keep warm and dry with Hoggs of Fife Falkland Tweed Jacket
Are you looking for a new Hoggs of Fife tweed jacket that will keep you warm, dry and comfortable, that's not too bulky or restrictive for shooting or everyday wear? Then check out the NEW Hoggs of Fife Falkland tweed jacket. This jacket is packed tight with top performing materials and has been carefully designed to bring you the necessary features needed when out in the countryside.
Now available at Cherry Tree Country Clothing, the Hoggs of Fife Falkland tweed jacket is made from a mix of 60% wool and 40% mixed fibres. These jackets have a high content of wool for warmth – and mixed fibres for durability, wear and tear!
Features of Hoggs of Fife Falkland Tweed Jacket
Outlined below are the key features of the Falkland jacket. The top features of this jacket are illustrated in the picture below:
Key feature

It's benefits to you

Waterproof, breathable, windproof Prooftex* dropliner membrane


(*see below for further details)

Designed to keep you dry and warm in the harshest of conditions

Taped seams

To avoid leaking at the seams - as all seams are taped

Dark brown moleskin collar

To ensure you have a warm, comfortable cosy collar

Storm flaps

So that you can close your jacket right up to the chin for warmth and protection against rain

Stud flap front closure

To prevent the wind from blowing through the zip

2 way brass zip

There is a strong, long lasting brass zip. Plus a two way opening for when climbing styles or getting into the car

Raglon sleeves

Extra material is added at the elbow for ease of movement

Concealed elasticated storm cuffs

Ribbed cuffs are hidden in the sleeves to prevent rain or wind from going up the sleeve

2 Moleskin lined handwarmer pockets

The pockets are at chest level, and are fully lined for warmth for when you are 'hanging around'

2 bellows pockets with drain vents and shooters retaining straps

The jacket has deep front hip pockets with drain vents to hold cartridges, mobile phones, maps etc. Plus it has retaining straps to hold open the bellows pocket for easy access

Breathable quilted poly/cotton lining

This lining is built in to prevent static and promote ease of movement. Lining is breathable and will draw humidity and moisture away from your body

Anti-wicking drip strip around hem

There's nothing worse than when you get up from sitting on a log or stoney wall and the bottom of your jacket is wet. The anti-wicking drip strip prevents water from soaking up the inside of your jacket

Inside zipped wallet pocket

There is a zipped wallet pocket to keep your valuables in, such as keys, mobile phones, and money.

Poachers pocket

There is a poachers pocket located at the inner rear of the jacket which is perfect to carry game or maps

The Falkland tweed jacket includes a Proof-tex drop liner membrane. Proof-tex is a premium technology which provides outstanding workmanship to keep you warm, dry and comfortable when out and about. This unique top of the range technology ensures this jacket is:
waterproof

breathable

windproof

UV resistant – material won't fade or discolour

durable – hardwearing
The Proof-tex technology keeps the cold, wind and rain out and draws humidity and moisture away from your body, keeping you dry and warm all day!
As an additional feature, this jacket has been designed to include a Raglan sleeve, ensuring easy movement. So with additional material at the elbow, there is plenty of material so that the jacket doesn't ride up when holding a gun or similar. Plus at 34inches in length (on a size medium jacket), this jacket will offer plenty of protect for your back.
So, if you are looking for a waterproof, breathable, windproof jacket that has all the main features for hunting, shooting or just being outdoors, then check out the Hoggs of Fife Falkland tweed jacket.