Grisport Oak Boot Review
REVIEWED: SEPTEMBER 3RD 2013
PRICE WHEN REVIEWED: £115.00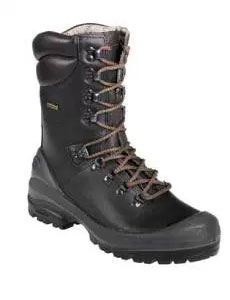 Introducing the Grisport Oak boot! A fantastic boot for hunting, shooting, stalking, beating, walking or working. With the latest technology, the Grisport Oak boot will keep your feet warm, dry and comfortable all day.
Specifications of the Grisport Oak Boot
Italian made, the Grisport Oak boot has been manufactured to a very high standard, using the latest top performing technology:
Spotex lining – 100% waterproof and breathable lining
Vibram sole – a slip and shock resistant sole. A vibram sole is the most durable sole available on the market
Self locking hooks – these self locking hooks give a safe and even grip without pressure points
Quick lacing – steel ring eyelet hooks guarantee resistance over time and an even slide of the laces
Sown in tongue up to ankle level – this prevents water and debris from entering the boot when out walking
Padded ankle and tongue – for extra comfort and support
5 layer sole unit – Grisport's unique 5 layer sole unit ensures comfort and support. See our Grisport technical guide for further information!
Cordura liner – performance fabric that is resistant to wear, tear and puncture
Support system – Grisports unique support system that locks your ankle into place when walking, preventing your ankle from twisting
Arch support insoles – specifically designed to give you arch support. Grisport insoles have also been treated with anti-bacterial compounds to reduce odour
Bump protection – additional protection on the toe of the Grisport Oak book will prevent heather or bracken from scratching or marking the front of the boots
As with any leather boot, the Grisport Oak boot will need a bit of love and care. Cherry Tree Country Clothing recommends the Nikwax waterproofing for leather. This leather treatment will help to 'feed' the leather and make sure you have many years of enjoyment from your boots.
So, if you are looking for a boot that is tough, durable, waterproof, breathable, comfortable and perfect for the countryside, then check out the Grisport Oak boots now.